Dam: Athena''
Louttit's Green Mountain Athena
DOB 8/27/2012
Athena has a family/therapy personality and temperament with a good recall. She's excited when outside for the first bit then calms down but is really calm while inside. Good with kids and cats, can be aggressive when a loose dog is on her property but good with other dogs while on their property.
Athena is MDR1 n/m and is a Carrier of DM clear for everything else Embark tests for. She is 31lbs and 21.5" tall. Athena is a tricolor. Mostly Guy Wilson lines. Athena is UKC/ESC Registered puppies will come with a litter Registration from ESC and can be later registered in UKC if owner wants. All pups will come with a no breeding contract and contain a spay/neuter requirement. The only exeption will be ES breeders or others that are looking to breed this breed with good intentions.
For more info on Athena ,Contact me by E-mail or Facebook
Athena is now retired from breeding.
http://www.esc-registry.org/members/dog5GenPedigree.html?dogId=6838
https://my.embarkvet.com/dog/athena132?fbclid=IwAR0tMCdcPBNI37V78Gm-hrYKubI07BHSc9B5EMpQDG_TMjqcMWfSQ0GctDA&utm_campaign=cns_ref_dog_pub_profile&utm_medium=other&utm_source=embark
Athena's parents:


Athena's dam, Annie, She was a beautiful tricolor, very stocky built girl, with a ton of heart. 50 lbs 20" at shoulder. Her parents, Wilson's Green Mountain Joy & Wilson's Cowboy, both OFA good and grandparents good-excellent on both sides. Exposed to sheep, horses, poultry, and cattle during her life. Nice drive and prey drive, as well as play drive. Intuitive and very shadowy. OFA Good & MDR1 N/M. - Savannah Curtis (Green Mountain & Star Crossed English Shepherds)
Athena's sire, Yukon is clear sable and white and stands between 23" and 24" and lives with ES breeder Caroline Betts at Middle Tree Farm in North Carolina where he regularly works the farm's sheep. ESC and UKC registered "PR" Betts' Wilson's Yukon Gold AHBA JHDs, HTADIs, HRDIs, JHDd, HTADId, HTADIId, ASCASs, BHA RATI, RATO is a sensible, steady, loving, guardian and always by his owner's side when she is working on the farm. He is intelligent, sensitive and naturally well mannered. He has wonderful judgment. He was quite a serious pup and is actually playing more now that he is grown. He is a rule oriented fella. A great all around family dog and farm hand. He is his owner's GO-TO guy for work around the farm. He is a great vermin and snake terminator, coyote guard, and stock dog. He works to help his owner which is very important to him. He carries forward the Guy Wilson lines, some of the oldest Southeastern farm collie lines, and is a great representative of that intelligent, tractable, versatile, temperament. He is a wonderful competition dog as well as the BEST traveling, camping, and hiking buddy. He absolutely never wanders. "He has a great sense of duty toward me and I am honored."-- Caroline Betts
Registration: ESCR, UKC Hip screen: PennHIP .39/.41 Other health info: MDR1 Normal/Normal Clear of CEA/DM/PRA/PRCD
Here is something about the Guy Wilson line that Yukon is from.
http://www.highlandglennranch.com/wp-content/uploads/2014/03/4-5_Guy_Wilson.pdf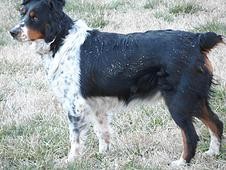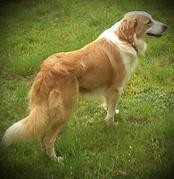 '

Annie'
Wilson's Beautiful Annie
DOB 6/2/2009
Yukon'
Betts Wilsons Yukon Gold
DOB 5/10//2011